SEE Electrical Building: INSTALLATION module
The basic module INSTALLATION has been designed for the electrical implantation of constructions.


This efficient module enables the user to easily import plans of different formats DWG, DXF, BMP, JPEG,...
The implantation takes into account the different professional installation modes: visible, pipe installation, discharge spout installation, built-in installation, octopus (floor, ceiling)…

Wire lengths eeexport in DWGre calculated taking into account the material installation heights and the installation mode.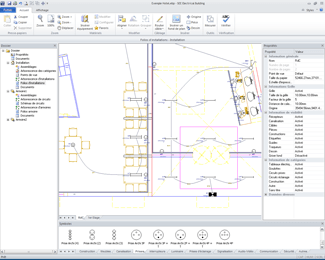 With the help of the filters, the user can select only data he needs to display or print (area, circuit, localisation, material features...). A background is obtained which is easier to use and more readable and the user can project a several level installation with the possibility to display his work in 3D.
New design functions enable the user to create easily lines and geometrical elements to improve implantation plans, and to create title blocks as well as new symbols.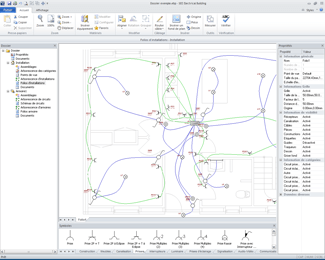 Main functions:
importation of architect ground-plans (import in DWG, DXF, DXB, BMP, JPEG format),
design of the building with predefined objects (walls, doors, ...),
export in DWG format with the possibiliy to use them later as Xrefs,
work to scale,
installation of the electrical material (electrical material database: slugs, switches, ...) with the possibility of additions or modifications,
positioning of wires and 3D equipment,
symbol, customized title blocks, and customized coverpages creation,
printing areas,
KNX symbols,
connection and automatic routing of selected elements,
automatic positioning of multiple devices at once.