Good economic sense: a feature-rich, high value option
SEE Electrical Standard is the second level of SEE Electrical. An economic solution, it delivers distinct advantages to companies that produce, revise or use electrical documentation.
SEE Electrical offers the best in electrical design software: real-time and automatic functions, which incorporate proven technologies well suited to managing project information and multiple lists.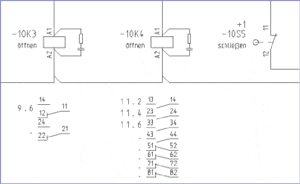 Wire directions and contact mirrors provide organized overview
Manage project information
♦ Fully integrated relay (contacts, mirrors contacts, auxiliary contacts ...), cable and cross-referencing manager. This system helps to avoid errors during the design stage. Administration of both main and additional component references allow all configurations to be checked and information to be received in real-time.
♦ Further logical automatic functions are also possible for PLCs. Real-time bi-directional exchange of PLC operands and comments between rack and I/O signals saves time and reduces errors.
♦ Project development based on a function and localisation hierarchy system.
Manage multiple lists
♦ Database editors allow list modifications, which are displayed immediately in the electrical diagram. In the List of products, the selection of a type from the Type database is directly possible.
♦ Creating detailed parts lists is easy, due to an integrated article database, which allows for manual import and the possibility to import complete manufacturer databases in ECAD or Excel format).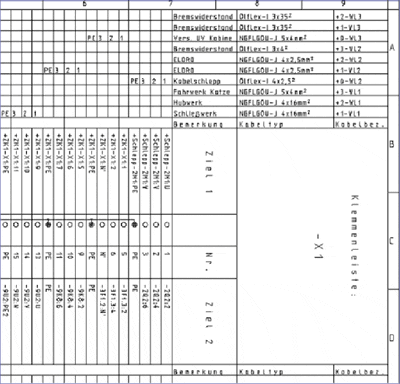 Fully customisable terminal matrixes provides automated generation of all terminal strips with all bridges, cables and targets
♦ Included are special functions for dimensioning and geometry, providing a basis for designing manual panel layouts and front views of cabinets.
SEE Electrical Standard is one of the best electrical design software package and is of particular use to electro-engineering companies, panel factories and machine tool manufacturers of all sizes.
Any question or comment? Please contact us