Railway:
De Railway industrie:

Ontwerpers van treinen werken dagelijks aan belangrijke kwesties zoals de intelligente treinen, betrouwbaarheid van de apparatuur, veiligheid, eco-efficiëntie, extra comfort, enz.
Om aan hun noden te voldoen heeft de IGE+XAO Groep een compleet software aanbod met vele voordelen ontwikkeld:
• Krachtige PLM (Product Lifecycle Management) oplossingen
• Specifieke functies voor de railway industrie.
• Sterke data intergratie
• Traceerbaarheid.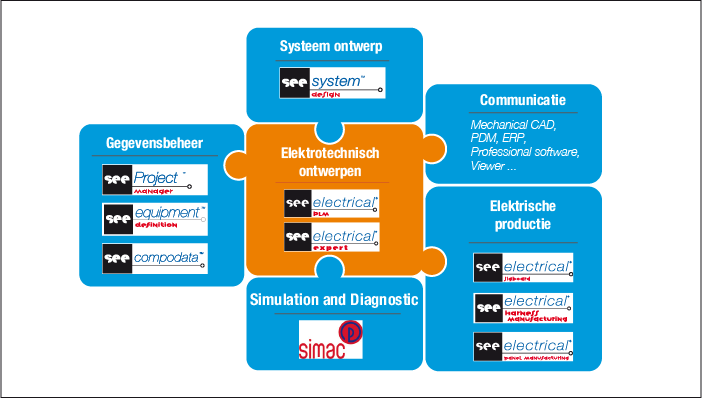 Electrotechnisch ontwerpen:


• SEE Electrical PLM
Het complete engineeringsproces
Meer informatie klik hier

• SEE Electrical Expert
Bedradingsschema's gekoppeld aan 3D en PLM
Meer informatie klik hier


System design:


• SEE System Design
Basis engineeren (System diagrams, P&ID,…) of gedetailleerd engineeren (kabellijsten, draadlijsten, PLC-lijsten, ... )
Meer informatie klik hier


Gegevensbeheer (Data management):


• SEE Project Manager
Project -en versiebeheer
Meer informatie klik hier

• SEE Electrical Artikelbeheer
Materialen, verbindingen tussen materialen, draad- en kabeldefenities


• SEE Compodata
Aanmaken en beheren van online catalogi voor het confugureren van complexe systemen
Meer informatie klik hier
Electrical manufacturing:


• SEE Electrical Jigboard
Bestemd voor het digitaal uitwerken van draad- en kabelroutingen


• SEE Electrical Harness Manufacturing
Software gemaakt voor het calculeren en fabriceren van kabelbomen.
Meer informatie klik hier
Communicatie:
Alle pakketten kunnen gekoppeld worden aan mechanische CAD pakketten (zoals bijvoorbeeld CATIA of andere), PDM, ERP of andere professionele pakketten.


Vragen, aarzel dan niet ons te contacteren.