SEE Web Catalogue

De SEE Electrical Web Catalogue is een online portal welke het mogelijk maakt artikeldata van meer dan 900 fabrikanten (meer dan 700.000 artikelgegevens) te zoeken en direct te importeren in uw SEE Electrical Type database. De SEE Web catalogue is een extra module vanaf het niveau Standard beschikbaar vanaf de versie SEE Electrical V7R2.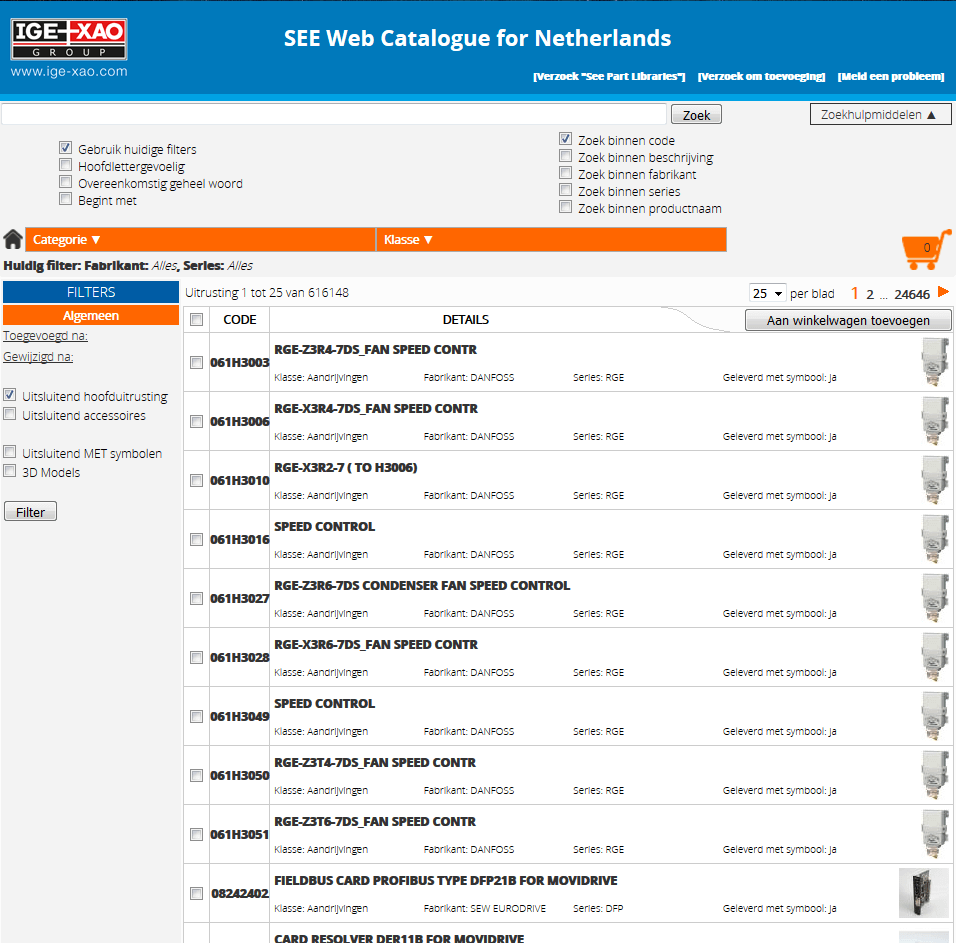 Er zijn 2 services beschikbaar:
1) "SEE Web Catalogus"
Met deze module is het mogelijk om alle artikelen in de web catalogus te downloaden.
2) "SEE Part Libaries"
In deze module is het mogelijk om nieuwe artikelen door ons hoofdkantoor aan te laten maken, met een maximum van 10 artikelen in een periode van 5 dagen. Deze service is mogelijk voor 100 artikelen in een periode van 18 maanden.
De IGE + XAO Group heeft voor klanten met een geldig SEE Web cataloog contract, een progressieve catalogus op het internet beschikbaar gemaakt. Het bevat data van verschillende fabrikanten. Elk artikel uit deze catalogus bevat minimaal zes gegevens:
Code : Identificatienummer van de fabrikant

Beschrijving : Beschrijving van het artikel in verschillende talen

Naam van de fabrikant

Serie: Naam van een serie of reeks

Productnaam: Artikel aanduiding



Mocht u vragen hebben of intresse hebben in deze webcatalog, neem dan gerust contact op met onze helpdesk.