"Nurol Makina chose SEE Electrical Expert, "first because the integration with CATIA was easy and rapidly deployable compared to the competition, and secondly because SEE Electrical Expert parametric based design gives users outstanding flexibility" Fatih Keser, Senior R&D Electrical Designer at Nurol Makina See the entire Testimonial
SEE Electrical Expert Harness Package: the answer for Wire Harness Design software.
SEE Electrical Expert "Harness Package" was created to help in efficiently answers most of electrical schematics and wire harness design needs for the aircraft, spacecraft, automotive, railway , shipbuilding industries & some consumer goods industries Integrating all the standard functions of an electrical CAD software package, SEE Electrical Expert "Harness Package" is very easy to use.
Discover how SEE Electrical Expert Harness package answers the need of the Aerospace industry:
In a Windows environment you will design and manage all kinds of diagrams, generates wires and part lists.

In addition, SEE Electrical Expert "Harness Package" allows connecting to 3D and PDM tools (Product Data Management).
Save time and money

Increase quality

Communicate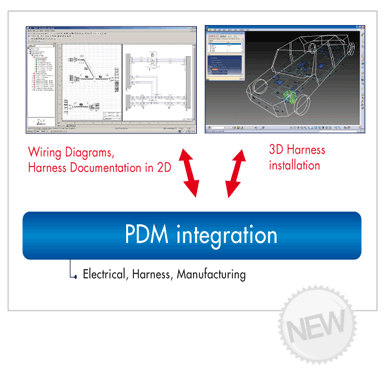 Convinced that SEE Electrical Expert / Harness package is the answer for wire harness design software?
> Contact us to request a demo of SEE Electrical Expert "Harness Package".


A question? A comment? Please do not hesitate to contact us by email. We will answer you quickly.