Toulouse, IGE+XAO Group announces:
Consolidated accounts for the first half 2019 (in IFRS norms).
(Period from 1st January 2019 to 30th June 2019).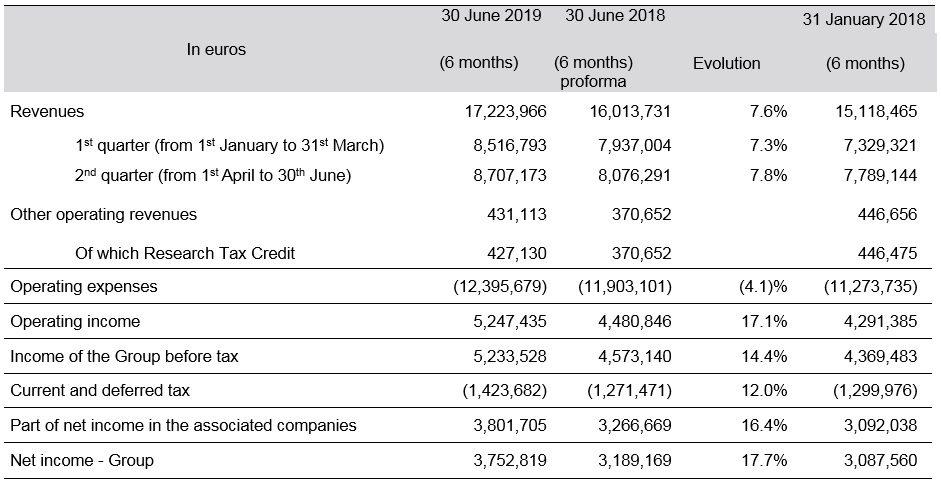 Over the first half of 2019*, the IGE+XAO Group has consolidated turnover of 17.2 million euros compared to 16.0 million euros one year ago, which is an increase of 7.6%. This favourable change is the result of strong momentum over all of the Group's clientele – Major Accounts and SME/SMI – in France as well as internationally.
The growth in the activity, along with a controlled change in the expenses, results in an increase in operating income of 17.1% amounting to 5.2 million euros compared to 4.6 million euros over the previous period. Operational profitability** has crossed the 30% line. Consolidated net income for the Group stands at 3.8 million euros, up 17.7% and net profitability*** amounts to 21.8%.
From a financial standpoint, the Group has a solid structure with, at 30 June 2019, almost no bank debt excluding the impact of IFRS 16 and a cash flow of 36.7 million euros.
From an R&D and product standpoint, substantial efforts continue to be deployed regarding the integration of new technologies, in particular concerning the Cloud as well as on all of the future versions of the Group's flagship software: SEE Electrical PLM (Management of the life cycle of electrical facilities), SEE Electrical/Expert (Computer Aided Design software dedicated to electricity) and SEE Electrical 3D Panel+ (Design and manufacture of electrical cabinets in 3D).
Backed with these results and solid fundamentals, IGE+XAO, now a subsidiary of Schneider Electric, intends to pursue its action plan, having as objectives to accelerate international development, and a high level of profitability, while still maintaining strong investment in R&D.
** Application of IFRS 9 and IFRS 16 does not significantly affect the Group's consolidated financial statements as at 30 June 2019
** Operating income in terms of turnover
*** Net income in terms of turnover
Note: The half-year financial statements closed out at 30 June 2019 underwent a limited review by the auditors of IGE+XAO and were approved by the Board of Directors on 22 July 2019.