Toulouse, 30 March 2015, IGE+XAO Group announces:
Consolidated accounts for the first half 2014/2015 (in IFRS norms).
(Period from 1 August 2014 to 31 January 2015).
Successful integration of the new activities
Operating margin: 25.5%
Net margin: 20.1%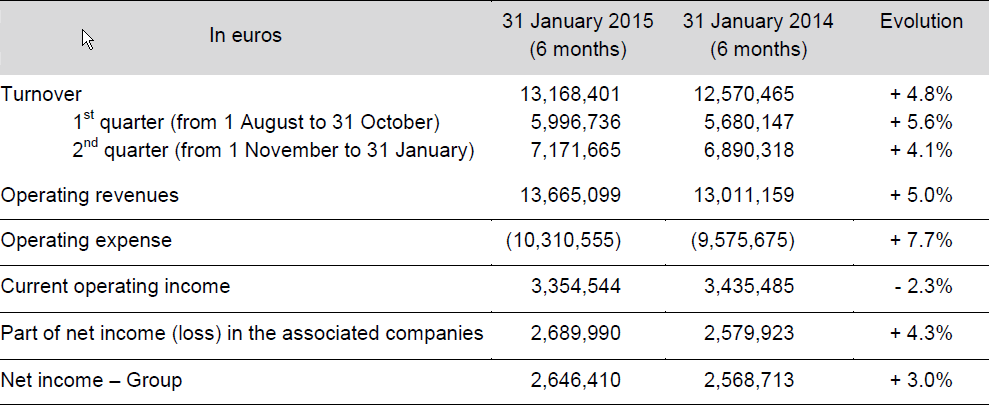 Over the first half of the 2014/2015 financial period, consolidated turnover for the IGE+XAO Group is 13,168,401 euros compared to 12,570,465 euros in 2013/2014, up 4.8%. This increase in activity would have been 6.2% (5.9% over the 1st quarter and 6.5% over the second quarter) under identical IFRS accounting standards. Indeed, due to the application of IFRS 11, the Group had to deconsolidate two subsidiaries, EHMS and S2E Consulting, without generating any modification in the percentage of holding, or any change within the governance of the Group in these two companies.
From a profitability standpoint, IGE+XAO is getting close to the exceptional level recorded over the 1st half one year earlier, with an operating margin and net margin respectively of 25.5% and 20.1%, both exceeding those from the financial period ended 31 July 2014 (25.1% and 19.3%). At the end of January 2015, operating income as such reached 3,354,544 euros and net income reached 2,646,410 euros.
This performance can be appreciated all the more so in that it is taking place during a period, on the one hand, of consolidating the actives of Prosyst, and on the other hand, of investments internationally with the integration of IGE+XAO Nordic in Denmark, the launching of a sales office in Moscow and the prefiguring of a location in South America. With regards to R&D, a major portion of the activity was devoted to implementing new 3D and Web infrastructures, to deploying PLM solutions in the railway sector and in preparing new versions of the Group's flagship software (SEE Electrical and its Expert and PLM versions).
Finally, from a financial standpoint, the Group is solidly structured with, at 31 January 2015, equity of 30 million euros, almost no bank debt and a cash flow of over 28 million euros.
* operating income in terms of turnover
** net income in terms of turnover
Note: The half-year financial statements closed out at 31 January 2015 underwent a limited review by the auditors of IGE+XAO and were approved by the Board of Directors on 26 March 2015.