SEE Calculation
SEE Calculation : obliczenia instalacji elektrycznej
Obliczenia są zgodne z normą IEC 60364 oraz CENELEC NFC 15-100
Program umożliwia przeprowadzanie obliczeń instalacji elektrycznej niskiego napięcia, zasilanej ze źródła energii elektrycznej.
Źródło może być złożone z jednego lub wielu transformatorów lub wielu generatorów połączonych równolegle.
SEE Calculation V4R1 to najnowsza wersja programu. Program dostępny jest w wersji angielskiej.
Profesjonalne oprogramowanie do wykonywania obliczeń
SEE Calculation to program umożliwiający obliczenia i weryfikację instalacji elektrycznej niskiego napięcia zgodnie z normą Cenelec.
SEE Calculation umożliwia:
dobór przekrojów kabli
dobór zabezpieczeń
obliczenia prądów zwarciowych i przeciążeniowych
weryfikacja doboru zabezpieczeń termicznych
zabezpieczenie przed dotykiem bezpośrednim.
Zgodność z normą NFC 15-100
SEE Calculation umożliwia realizację obliczeń oraz generację rysunku synoptyki instalacji wraz ze schematem jednokreskowym.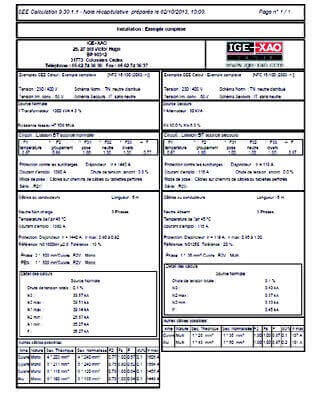 Prosty w użyciu
Idealne narzędzie pracy
Przyjazny i ergonomiczny. SEE Calculation zawiera narzędzie dydaktyczne wspomagające wdrożenie programu.
SEE Calculation oferuje różne rozwiązania i pozwala definiować optymalny dobór pod względem technicznym i ekonomicznym.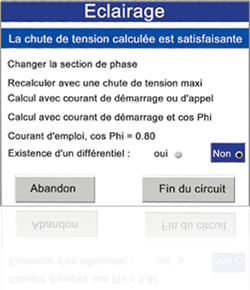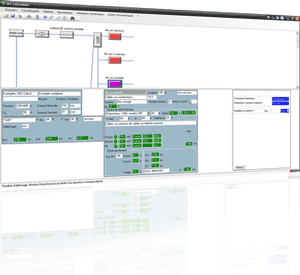 Użytkownik projektuje synoptykę instalacji zawierającą źródło zasilania i całą sieć, używając prostych dialogów. Schemat jednokreskowy tworzony jest automatycznie, na podstawie schematu synoptyki. Symbole schematowe są zgodne z normami oraz odzwierciedlają pożądane działanie zabezpieczeń, zgodnie z przyjętymi danymi do obliczeń. Użytkownik może edytować dane charakterystyczne symboli wstawionych na schemat jednokreskowy, skracając w ten sposób czas projektowania instalacji.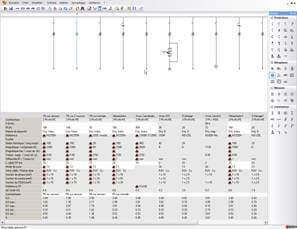 Niezawodny program
SEE Calculation kontroluje poprawność projektowanej instalacji, zarazem pozostawiając projektantowi decyzję o sposobie zabezpieczania.
Operacje są zaprojektowane w ten sposób, aby spełnić standardy normy NF C 15-100.
Jeśli rezulat obliczeń nie jest satysfakcjonujący, użytkownik uzyskuje podpowiedzi możliwych rozwiązań.

Kompletny i Skuteczny
Program został tak przygotowany, aby szybko i skutecznie obliczać różne typy instalacji, aż do mocy źródła 2 500 KVA, berz względu na poziom skomplikowania instalacji. Oblicza przekroje przewodów, spadki napięcia, prądy zwarcia, zakres źródeł i zabezpieczenia. SEE Calculation bierze pod uwagę konfigurację źródeł energii, zarządzaq selektywnością zabezpieczeń, uwzględnia lokalizację, rodzaj izolacji kabli, a także pozwala rozpocząć obliczenia od zadanej wartości prądu zwarciowego.
Otwarty dla użytkownika
Program jest dostarczany wraz z katalogiem producentów (ABB, Gewiss, Hager, Legrand, Moeller, Schneider Electric, Siemens, …), zawierającym ponad 20 000 kodów katalogowych wyłączników. Ten katalog może być uzupełniany przez użytkownika.
Schematy jednokreskowe mogą być eksportowane do programu SEE Electrical lub do programów graficznych.
Arkusze obliczeń mogą być przenoszone do programów typu Excel, Access i innych.

Przyjazny dla projektanta
Przeznaczony dla projektantów systemów dystrybucji energii elektrycznej dla budynków przemysłowych i handlowych, SEE Calculation jest użytkowany zarówno przez biura projektowe, jak i instalatorów elektryków, odpowiedzialnych za nowe budowy oraz obsługę już istniejących instalacji.
Użytkownik może dostosować program SEE Calculation do swoich potrzeb i przyzwyczajeń. Indywidualny plik konfiguracyjny pozwala zadeklarować różne hipotezy obliczeń (kod katalogowy, maksymalne przekroje kabli, sposób prezentacji dokumentów,…).
Masz pytanie ? Chciałbyś skomentować ? Skontaktuj się z nami Wyślij mail. Odpowiemy możliwie najszybciej.