SEE Compodata
SEE Compodata : un configurateur produit innovant pour générer également vos e-catalogues (catalogues électroniques).
SEE Compodata: the intelligent e-Catalog suite – A powerful product configurator
Turn your e-Catalog into a strategic advantage
COMPODATA is a product configurator software suite proposing an innovative e-Catalog Software Suite to easily and quickly generate multi-channel (Internet, stand-alone PC, Paper) electronic catalogs of complex and/or configurable products. Those catalogs include a revolutionary selection guide.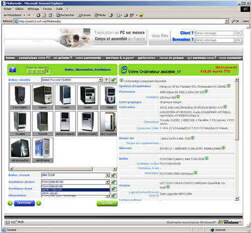 The COMPODATA Software Suite enables you to present your products and solutions e-Catalog with such an intelligence that it becomes, for your company, a strategic development accelerator.
Using our 50 men-years R&D technology will offer you the ability to apprehend e-Business with a different angle, thus transforming your prospects into regular customers.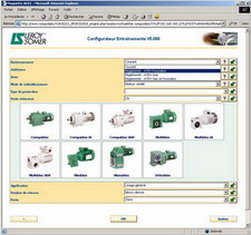 Our promise
♦ Efficiently assist your sales forces in their sales proposals, thus obtain a quotable and spectacular Return On Investment.
♦ Discharge your R&D teamss by integrating configuration and dimensionning pre-validated constraints into the e-Catalogue.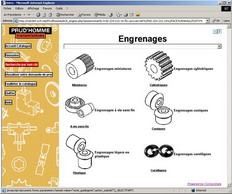 ♦ Enable your customers and prospects to directly specify thier solution, and provide them with a high added value service.
♦ Develop your turn-over, by increasing both the number of customers, and the revenues per customer.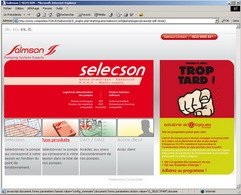 The implementation is immediate and needs no software development nor skill.
Our commitment: to keep you one length ahead!

Products
Generic Principles:
The CompoData suite results from a new approach which enables the development of powerful configurators while remaining particularly easy to implement and maintain.
In effect, CompoData enables to manage complexity in its different forms, by means of simple parameterization, without any programming :
assembly or manufacturing complexity: the usual target of most configurators on the market (especially ERP configurators);
numeric complexity: e.g. used cars databases : how to select one individual among 50,000 proposed;
combination complexity: how to manage potentially billions of billions of individual (resulting from option and variant combinations), while, on one hand, guaranteing the user with the respect of all compatibility constraints, and on the other hand, preventing him from any dead-end resulting from those;
functional and dimensional complexity: how to select a centrifugal pump, a vibration damper, a dynamic seal, or, in other areas, a loan or an insurance.
… with all those different complexity forms happening to be combined.
On an other hand, with CompoData, most of product data are managed externally, with appropriate tools (e.g. spreadsheets) : parameterization enables the direct mapping of those.
CompoData globally consist in:
a catalogue database generator,
two catalogue/configurator engines (Catalog Explorer), enabling to operate the generated catalogue as well on stand alone PCs and on the Internet.
These product configurator software are modular, depending upon the problem to solve and the expected solution.
A new approach of configuration
Most configurators manage configuration constraints in the selection scenario (IF … THEN … ELSE … type).
With CompoData, configuration constraints are part of product definition : thus, the selection scenario can be reduced to a simple "comb" composed by a list of selection criteria. This approach results in multiple advantages :
ease of parameterization, which integrates configuration constraints independently of any selection scenario,
ability to easily define different selection scenarios leading to the same result, since eache scenario is simply defined by a list of criteria.
For instance, with our customer Salmson (a major centrifugal pump manufacturer) :
a functional scenario (based upon the specification of an operating point (pressure/flow),
a direct scenario (based upon the Part number),
a replacement scenario (replacement of an old pump by an equivalent new one).
Product configurator – demonstrations
Real size demonstrations are accessible on the web site of some of our customers who propose their e-Catalogue in free access (see our "References" title).
You can also ask us other demos.