SEE Electrical Harness Manufacturing
SEE Electrical Harness Manufacturing: een softwarepakket voor het maken van productietekeningen van kabelbomen.
SEE Electrical Harness Manufacturing: een softwarepakket voor het maken van productietekeningen van kabelbomen.
Safran Electrical & Power en de Group IGE+XAO hebben gezamenlijk de joint-venture EHMS, gericht op het ontwikkelen en commercialisatie van een softwarepakket dat zich toelegt op de vervaardiging van kabelbomen.
De combinatie van zowel de expertise als de middelen van Safran Electrical & Power IGE+XAO hebben geleid tot innovatieve softwareprogramma's die geïntegreerd kunnen worden in de specifieke engineerings-  en werkomgevingen van klanten.  (denk hierbij bijvoorbeeld aan klanten zoals vliegtuigbouwers, autoconstructeurs, …).  Deze oplossingen genaamd "SEE Electrical Harness Manufacturing" maakt het mogelijk om vanaf een kabelboomontwerp de overeenkomstige productieprocessen te bepalen alsook de snij- en markeermachines aan te sturen.  SEE Electrical Harness Manufacturing omvat ook functies voor het programmeren van elektrische testen.
Een complete reeks van modules met uiterst geavanceerde functionaliteiten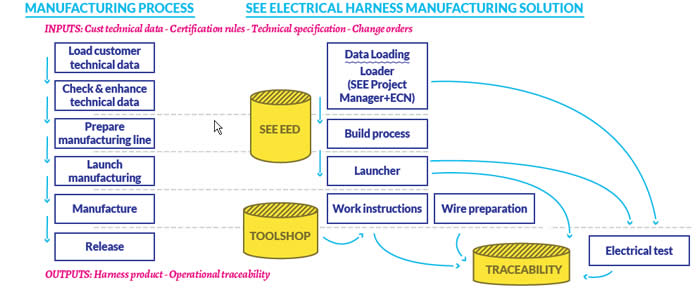 Op basis van gegevens die de fysieke kabelbomen vertegenwoordigen (bijvoorbeeld gegevens in XML-indeling), wordt deze toolkit gebruikt om de productie van kabelbomen voor te bereiden.   De eerste stap is het laden van de gegevens.  Vervolgens past "ECN" automatisch optimalisaties en wijzigingen toe, voert specifieke controles uit en valideert de fysieke kabelboomgegevens.  Tot slot worden onder meer de benodigde gereedschappen die nodig zijn voor de fysieke productie van de kabelbomen bepaald.  Het eindresultaat is een complete productietekening voor het maken van een geïndustrialiseerde kabelboom
Productiefase


De "Launcher" genereert de productietekeningen per afdeling alsook per werkplek.
Een reeks onafhankelijke modules met onder meer volgende mogelijkheden
Wire Preparation:  Draadvoorbereidingen: maakt productiebatches, wijst machines en printers toe, snijdt kabels / afschermingen en drukt etiketten af.
Work instructions:  Werkinstructies: ontwerpt sjablonen en genereert statische instructies evenals interactieve instructies (Apple-, Android- of Windows-apps).
Test: Wijst connectoren en interfaces toe, berekent functionele lijnen, kaartadressen en genereert testercodes.
Traceability:  Traceerbaarheid: slaat de traceerbaarheid van de productie op, valideert de productie van kabelbomen en biedt follow-up mogelijkheden na levering.
Toolshop: beheert hulpmiddelen, gereedschapsrevisies en gereedschapsautorisaties.
Workers and Skills: Werknemers en vaardigheden: beheert zowel operatoren als vaardigheden en trainingen.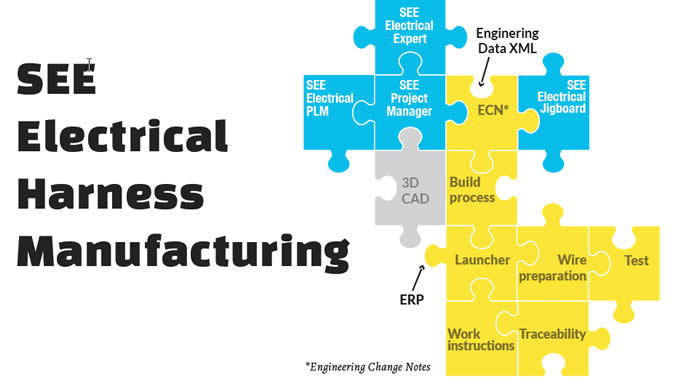 Gemakkelijke integratie met andere IGE+XAO software oplossingen
SEE Electrical Harness Manufacturing kan gekoppeld worden aan verschillende andere pakketten van IGE+XAO en biedt daardoor uitgebreidere functionaliteiten.
SEE Electrical Jigboard maakt een geschaalde productiekabelboom, rekening houdend met vertakkings
diameters, draadroutes en de
buigradius.
SEE Electrical Equipment Definition kan ook worden gebruikt om alle gegevens van elektrische apparatuur in op te slaan.