Toulouse, IGE+XAO Group announces:
Annual consolidated financial statement for the 2021 financial period (in IFRS format)*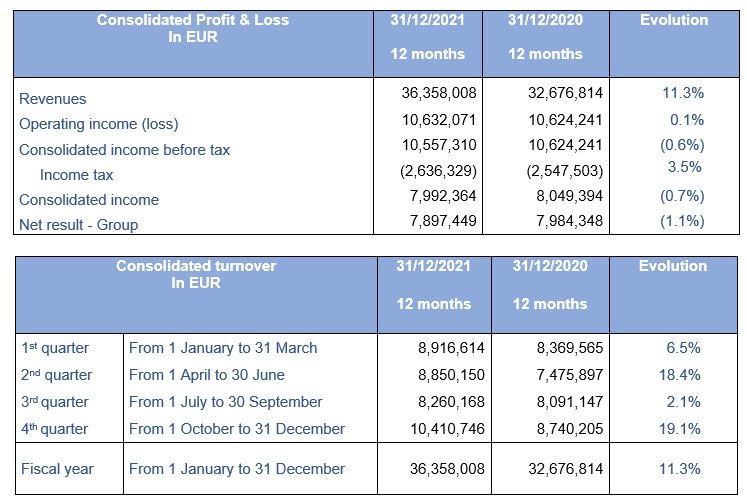 After a year of resilience marked by the health crisis, IGE+XAO returned to growth in 2021 with consolidated turnover amounting to 36,358,008 euros, up 11.3% compared to 2020. Perpetual licence sales and services bounced back 13% and 31% respectively. Maintenance contract sales remained stable, penalised by a low revaluation index while subscription sales increased 13%. Major account customer activity was particularly dynamic with growth of 21% over the financial period. In parallel, the Group maintained its entire R&D roadmap and products, in terms of the existing offer as well as the development of new solutions, in particular in the Cloud and PLM (Product Life Cycle Management) fields.
Regarding profitability, operating income is stable, marked by the returning of costs to nominal levels in particular for personnel expenses and travel expenses as well as marketing expenses. The operating margin thus stands at 29.2%** compared to 32.5% in 2021. Total consolidated net income is 7,897,449 euros bringing the net margin to 21.7%***.
From a financial standpoint, the Group has, at 31 December 2021, a cash flow of 54.1 million euros and almost no bank debt (excluding the impact of IFRS 16).
* The consolidated financial statements were approved by the Board of Directors on 16 February 2022 and will be submitted for approval to the Annual Shareholders' Meeting.
** Operational profitability: operating income / turnover
*** Net profitability: net income / turnover