Toulouse, IGE+XAO Group announces:
Consolidated accounts for the first half 2020 (in IFRS norms).
(Period from 1st January to 30th June 2020).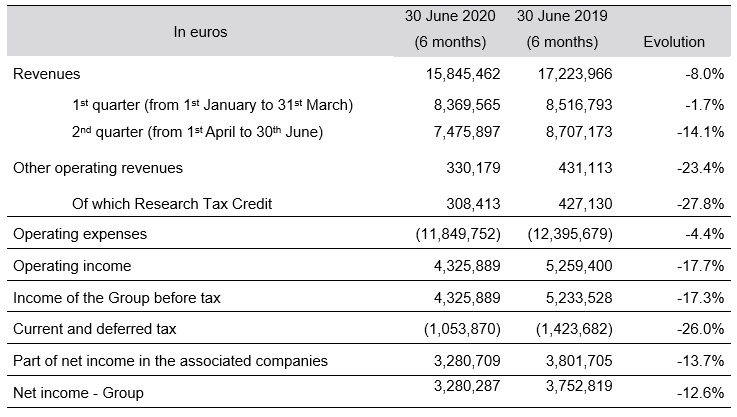 Over the first half of 2020, the IGE+XAO Group has consolidated turnover of 15.8 million euros compared to 17.2 million euros one year ago, which is a decrease of 8.0%. During this period, the Group's activity was affected by the global Covid-19 pandemic, which started in China at the end of January and substantially affected western markets starting in March 2020. Although, in this difficult context, licence and training turnover dropped, recurring turnover however increased, with in particular software subscription sales which increased more than 12%.
In parallel, and while still fulfilling all of its missions with regards to customers and partners via massive recourse to teleworking and to remote services (remote maintenance and training), IGE+XAO reduced its operating expenses by 4.4%. Consecutively, and despite this crisis period that the global economy is going through, operational profitability* stands at 27.3% and consolidated net income for the Group stands at 3.3 million euros which is net profitability** of 20.7%.
From a financial standpoint, the Group has a solid structure with, at 30 June 2020, almost no bank debt excluding the impact of IFRS 16 and a cash flow of 45.5 million euros.
Backed with these results and solid fundamentals, and while remaining attentive to the changes in the economic situation, IGE+XAO, now a subsidiary of Schneider Electric, intends to pursue its action plan, having as objectives to accelerate international development, and a high level of profitability, while still maintaining strong investment in R&D.
* Operating income in terms of turnover
** Net income in terms of turnover
Note: The half-year financial statements closed out at 30 June 2020 underwent a limited review by the auditors of IGE+XAO and were approved by the Board of Directors on 20 July 2020.