An electrical drawing shows a drawing of the connections and relationships between electrical symbols. Once the idea contained in the diagram (or rather in the diagrams, as there must usually be more than one) has been realized for a specific machine (industrial object, etc.), a specific, predictable and planned operation of the machine in question is possible. The electrical project is a database of related information about electrical facilities.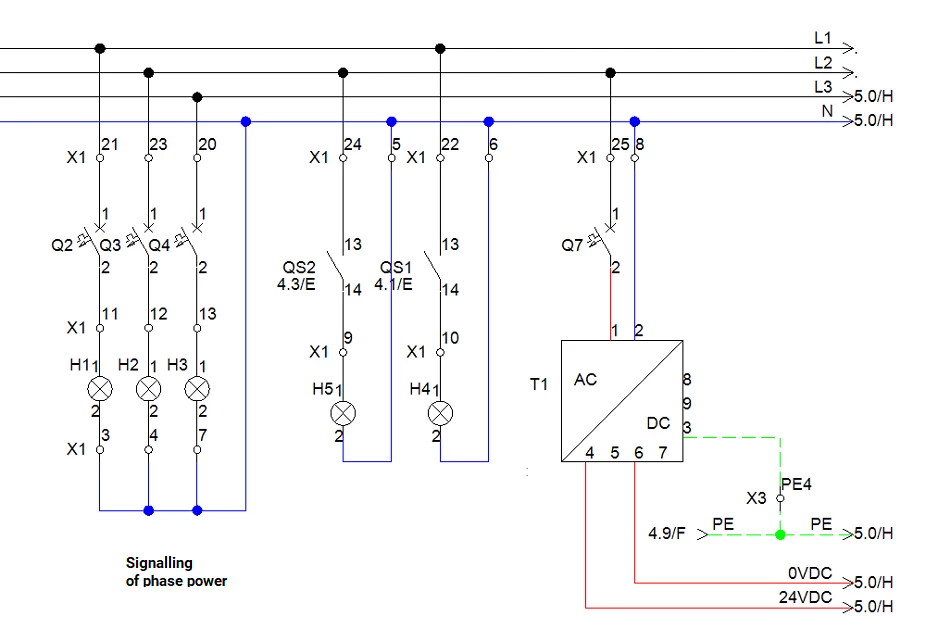 The electrical project includes a technical description, a table of contents, electrical calculations, basic diagrams (also known as wiring diagrams), assembly diagrams (mounting terminal strips), drawings of cabinets and control panels, plans for electrical and tele technical installations, sometimes agreements with the power company, bills of materials, cable lists, and sometimes a cost estimate of the works. In order to carry out an electrical project, it is necessary to have specific software to enable it to be carried out quickly and accurately. Generally known text editors are used for technical descriptions. Licensed calculation software is used for electrical calculations, just as it is for cost estimates. On the other hand, only specialized software collectively referred to as electrical cad is recommended for creating drawings. The essence of such software is that the project is the basic unit, as opposed to graphic design software where the basic unit is the drawing.
The degree of processing in electrical cad applications can vary, but mostly the repeatability of the symbol markings, the correctness of the connection of the symbol ends, the control of the use of contacts in the relay, etc., is controlled. Only by using professional, proven design software can an error-free or almost error-free electrical design be achieved. Consequently, the implementation of the project on site is free of very costly errors.
The best suited choice for this purpose is the SEE Electrical software, which includes the design of electrical drawings.
Interesting links: electrical drawing software, electrical projects, electrical installation design software
Since its inception in 1986, the IGE+XAO group has been working on the development of CAD (computer-aided design) software, but in the context of the needs of electricians and automation specialists. Electrical CAD is dedicated to the electrical and automation industry. The IGE+XAO group's applications make the creation of electrical and automation projects and the operation of electrical installations faster and easier.
The IGE+XAO group software is used on individual or networked computers. It fulfils numerous functions such as the creation of electrical diagrams, the design of installations, the design of electrical cabinets and the creation of bills of materials.