IGE XAO : software packages dedicated to Electrical Harness Design
IGE XAO has an excellent reputation within the civil aviation and transport industries. Software packages were specifically developed to meet their needs. For example, SEE Electrical Expert concentrates all the power of an electrical CAD programme to manage any type of electric cabling schematic.
SEE Electrical Expert: the answer for Wire Harness Design software.
SEE Electrical Expert was adapted to help in efficiently answers most of electrical schematics and wire harness design needs for the aircraft, spacecraft, automotive, railway , shipbuilding industries & some consumer goods industries Integrating all the standard functions of an electrical CAD software package, SEE Electrical Expert is very easy to use.
In a Windows environment you will design and manage all kinds of diagrams, generates wires and part lists.

In addition, SEE Electrical Expert allows connecting to 3D and PDM tools (Product Data Management).
Save time and money
Increase quality
Communicate
1- Schematic Editor
SEE Electrical Expert provides all necessary tools to manage wire harness schematic diagrams and wiring diagrams..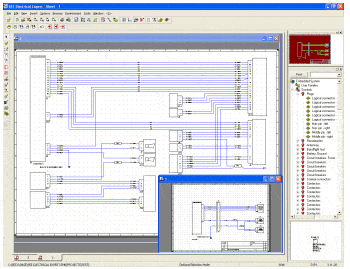 Creation and modification of diagrams
Multiple sheets project management (off page referencing).
Dedicated tools for signal insertion, symbols.
Wires are cut automatically.
Windows drag and drop, cut and paste and undo features, context menus, icon bars…
Manual or automatic tagging of components.
Real time management of cross-references (Multiple pages).
Complete management of connectors
Automatic connector insertion.
Part number selection.
Automatic numbering of connector pins according to part number.
Management of all type of pins (contact, socket…).
Real-time control (pin duplication, exceeding capacity, etc.).
Pins management, swap pins, spares.
Management of connector composition (backshells, pins and accessories).
Management of inline connectors (Automatic pin numbering…).
Management of signals, wires, cables, shielding
Real time management of signal networks (nets).
Management of cable and wire numbers, gauge, colour…
Management of cable types (shielded, twisted, coax…).
Selection of cable and wire part numbers.
Generation of reports
Automatic lists generation of equipment lists, wire lists, cable lists, manufacturing lists, etc…

SEE Electrical Expert allows the user to create his own working environment to adapt to any standard.
This means graphical representation and working method to design schematics for commercial or military aircrafts as well as cars or ships.
Symbol libraries
Included symbol libraries of international standards such as ATA, BNAE, DOD-STD-863B…
Symbol editor
Create, modify and organize symbol libraries.
Equipment database
Database of electrical equipments,connectors, cables, wires…
Management of part numbers, manufacturers, product description and technical data.
Import and update features to connect to external data (ERP).
Working methods
Management of working methods according to standards.
Equipments, connectors, signals, wires and cable numbering.
Connectors, cables graphical representation.
Title blocks and page formats management.
Exchange and Communication
Graphic formats
DXF/DWG, BMP, JPEG, TIFF, PCX, SVG,CGM…
Data exchange formats
XLS, DOC, HTML, XML …
Database formats
MS Access®, Oracle®, SQL server®…
Wiring exchange format
XML (CATIA V5), NWF (Pro Engineer).
2. Harness Documentation
This software module allows to design and manage wire harnesses by drawing a flaten view of harness in relation with schematics
Capability to draw harness sheets.
Process routing ( routes wires existing in schematic sheets, inside harnesses).
Calculation of cables length.
Specific extraction of harness data, in order to generate part-list and cabling list.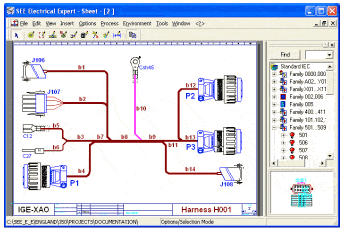 The routing process is able to take in account
From/To wires and From/To harnesses compatibility.
Cables segregation codes and harness branches segregation codes compatibility.
Splices.
Search for the shorter way.
Collected branches length in order to calculate cables length.
Wire harness sheets provide all objects necessary for drawing harnesses
Wire harnesses and branches.
Connective equipment that represent all the materials connected at the extremities of harnesses (connectors, boxes, etc.).
Sleeving equipments for external protection of harnesses.
Wire harness accessory (clips, clumps, etc.).
Text, drawing and dimension are available in harness sheets.
3. CATIA V5 Integration
This module allows to exchange with Catia V5.
The wiring datas are extracted from the harness wiring diagram in SEE Electrical Expert and then are sent to CATIA through an XML file.
This format allows the complete description of the electrical links (from-to) and the technical characteristics of the equipments, connectors, wires and cables… (gauge, section, bend radius, linear density etc….).
Those datas will allow the routing of the wires within the harness that has been firstly created in CATIA. After routing, the diameter and section of the branches of the harness will be recalculated according to the electrical reality.
Then, CATIA will send back to SEE Electrical Expert the wire harness and cables length through the XML file in order to complete the bill of material.
This way, the link between both electrical and mechanical engineering processes is done.

4. SmarTeam Integration
This module allows to manage your projects through Smarteam.
SmarTeam Integration allows to:
Manage SEE Electrical Expert documents
Creation, deletion and life cycle operations.
Use of SMARTEAM VIEWER for document preview in profile cards.
Linking documents together
Extraction of components used in the document into the SMARTEAM database.
Use of this information to use documents within other documents (Top & Down approche).
Convinced that SEE Electrical Expert is the answer for wire harness design software?
More info about Harness Design