Each electrical project is a database of interrelated information about the facilities. The electrical design includes a technical description, a table of contents, electrical calculations, basic diagrams (also called schematic diagrams), assembly diagrams (mounting strips), drawings of cabinets and control panels, plans of electrical and teletechnical installations, sometimes agreements with the power company, bills of materials, cable lists, sometimes a cost estimate of the works.
The SEE Electrical project includes related electrical drawings and automation drawings, as well as related electrical symbols.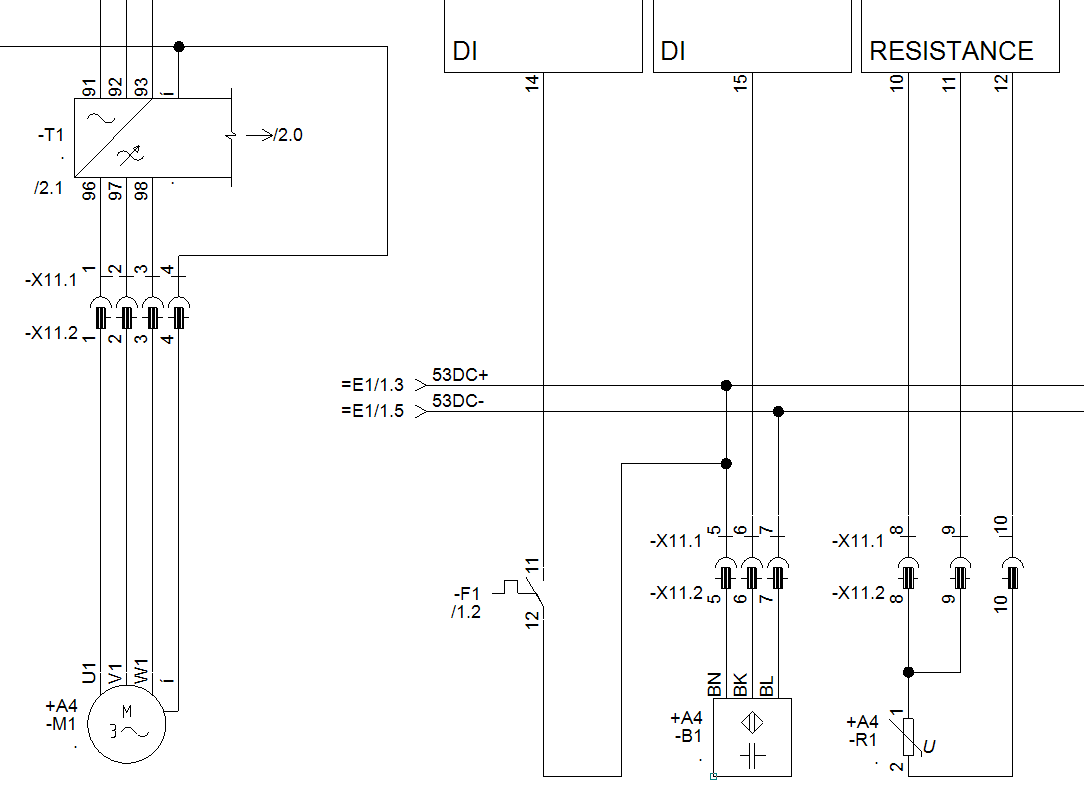 The degree of processing in Cad electrical programs can vary, but mostly the repeatability of the symbol markings, the correctness of the connection of the symbol ends, control of the use of contacts in the relay, etc., is controlled. Only by using professional, tried-and-tested electrical design software can a flawless or near-flawless design be achieved. Consequently, the on-site implementation of the electrical project is free of very costly errors. The circuit diagram shows a drawing of the connections and relationships between electrical symbols. Once the idea contained in the electrical diagrams for a specific machine (industrial facility, etc.) has been achieved, a specific, predictable and planned operation of the machine in question is possible.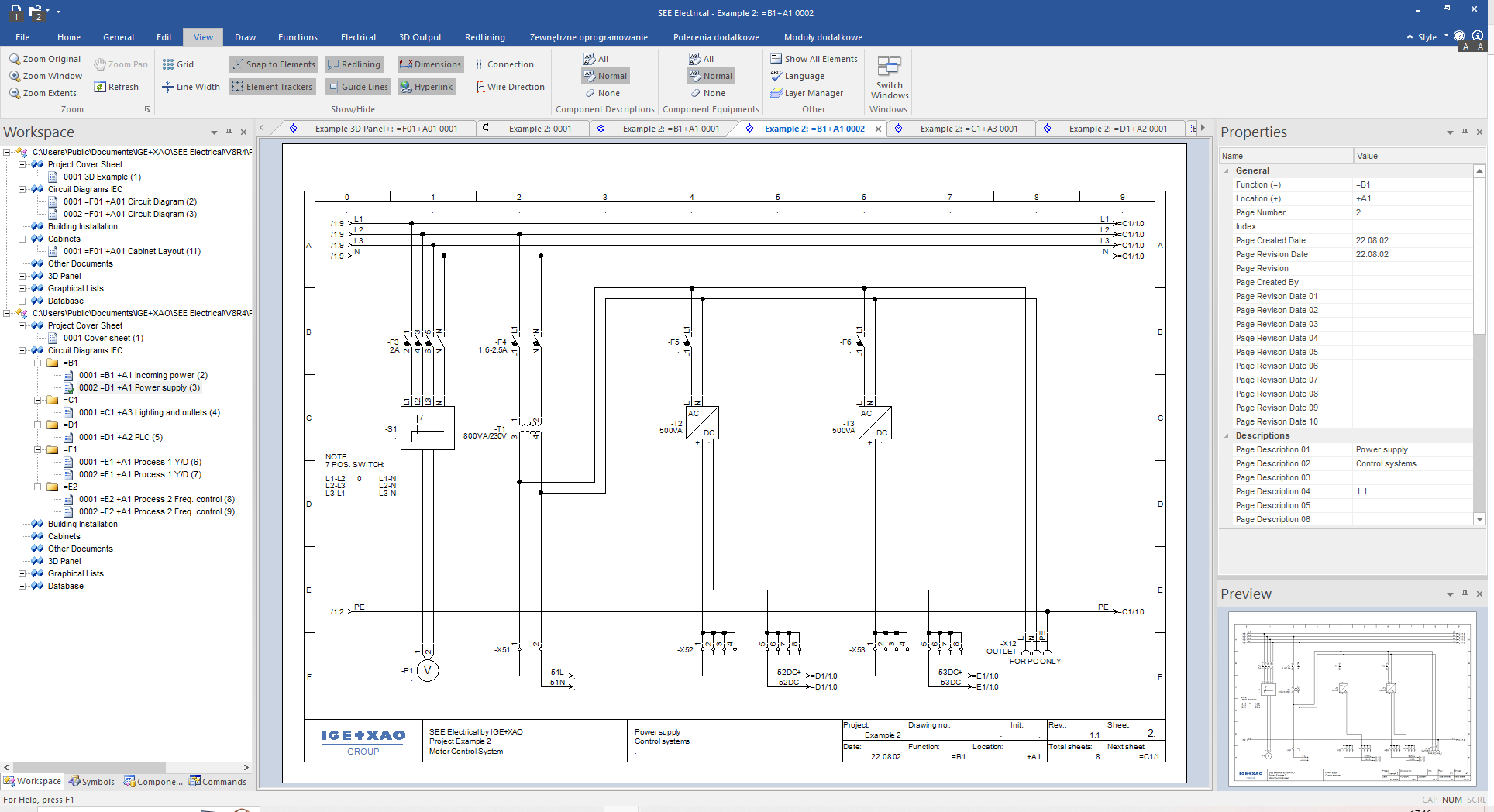 Electrical projects are carried out for most industrial sectors. The most sophisticated automation projects are carried out for the transport industry, actually in the design of aircraft, ships and buses, trams and trains. They have to take into account thousands of connector terminations with specific markings, enormous wire lengths in bundles, specific connectors, special apparatus catalogues. Creating such an electrical project requires a high level of experience, a high level of control, a high level of software productivity and the maintenance of a project history.
Every machine requires an electrical design if it contains even several electrical apparatuses. The electrical apparatus is connected by wires and mounting strip terminals. Direct connection of power and control cables to electrical apparatus is prohibited. Intermediate mounting strips should be designed. Electrical control of the machine can be remote or local. Remote control is carried out from control panels or control boxes. Local control is most often carried out using buttons on the door of the machine. Control and power cables must contain the correct number of conductors. The conductors must have the correct cross-section. Electrical projects are therefore very complicated and impossible for an unskilled person to understand. They are conducted at a high level of abstraction. Unlike architectural or mechanical projects, where the shape can be imagined and often can be visualized in a computer, the effect of realizing the electrical connections in a machine cannot be seen before the construction is completed. This raises the need to use advanced electrical design support software. Nonetheless, it is necessary to have the project reviewed by experienced designers anyway, before implementation begins.
Automation of production requires robots, advanced and simple machines, multiple drives and servo motors. Maintenance is a fundamental issue in today's modern factories. A lot of electrical design has to be done to design production lines. A lot of electrical design has to be done to design production lines. Moreover, it is often necessary to lead changes to these projects. Therefore, maintenance departments use the software to design and modify electrical documentation. Electrical projects for factories are characterized by a large number of drawings. Each power supply and drive control, should be designed on a separate electrical drawing. Electrical projects and the drawings in them must be available directly on the workstation, either as pdf files or as jpg files, and preferably in a web browser. This is because the time it takes to access their view counts. It is good if the electrical engineering software offers the possibility to mark zones for change.
The best-suited choice for this purpose is the SEE Electrical, which includes the creation of electrical projects https://www.ige-xao.com/en/shop/see-electrical/.
Computer-aided electrical design
Since its inception in 1986, the IGE+XAO group has been working on the development of CAD (computer-aided design) software, but in the context of the needs of electricians and automation specialists.
Electrical CAD software are designed for the electrical and automation industry. The IGE+XAO group's software makes the creation of electrical and automation projects and the operation of electrical installations faster and easier. The electrical programs offered by IGE+XAO can be divided according to the customer's needs into several domains: electrical and automation design (IGE+XAO's core business), system design (system design), electrical equipment manufacturing, database management, communication and simulation.
IGE+XAO software is used on individual or networked computers. It is primarily used for creating electrical diagrams, designing electrical installations, designing electrical cabinets, creating bills of materials and designing electrical harnesses. We also offer our own software for the management of electrical documentation and project history.
The company provides software for industrial sectors (craftsmen, small and medium-sized companies and large production facilities). The wide range of design software can be used in automation, machine and equipment manufacturing, energy distribution. Automotive, transport, energy, food industries, chemistry, metallurgy, construction. Our solutions are particularly popular in factories (maintenance departments) and in the engineering industry for the electrical design of machinery and equipment. Transport and industrial energy are also sectors where our solutions are very well known.
In order to fully meet market needs in its guiding fields of electrical and automation, the IGE+XAO group invests in the development of a number of applications. These software, depending on the complexity of the needs, have above all the functionality of useful project creation.
The software offering covers the needs of electrical professionals used in industry and construction and allows the execution of the standardized technical documents used in the creation and operation of electrical installations, while ensuring optimum efficiency.
Look on presentation About company
Copyright © 2011 – 2023 IGE+XAO