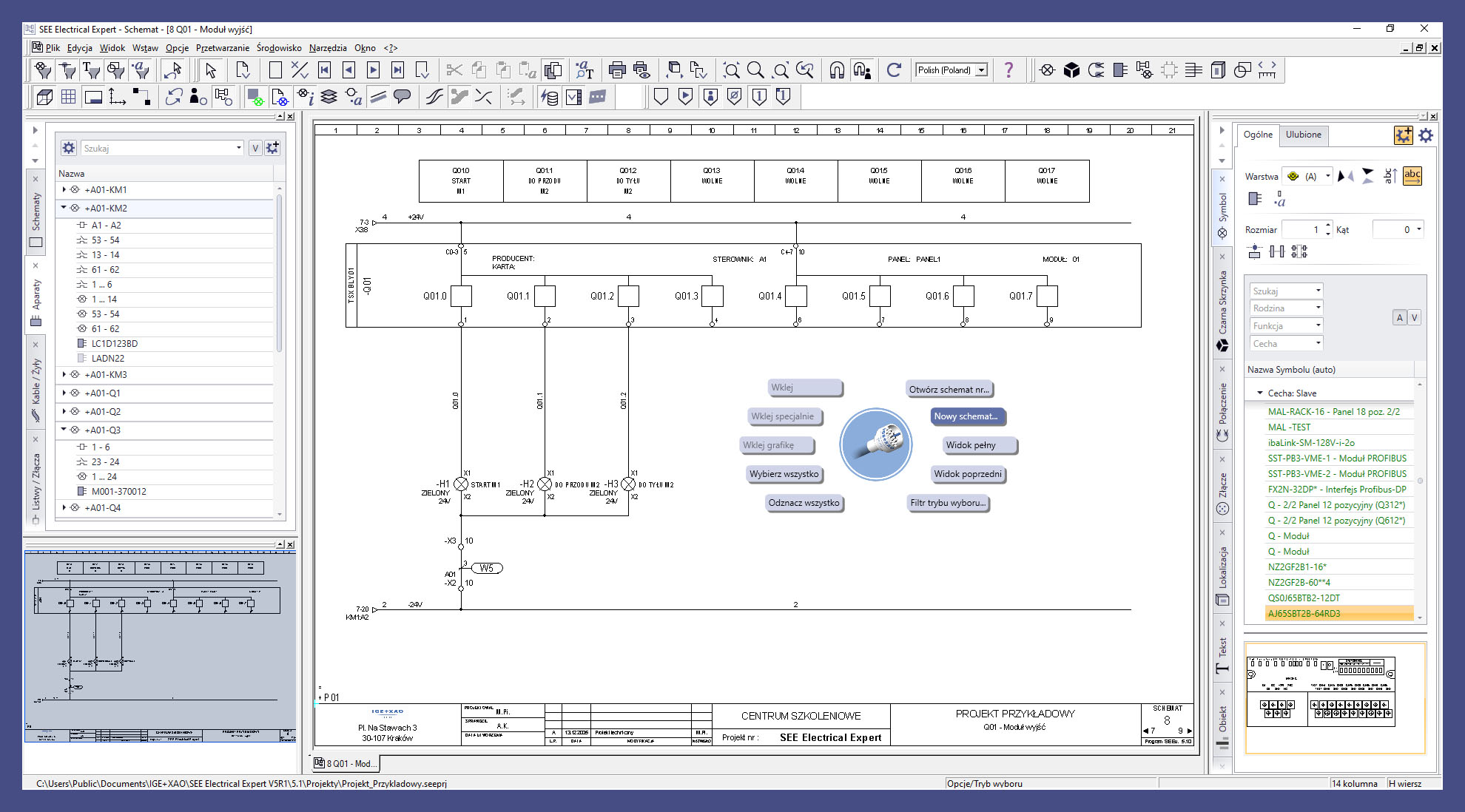 SEE Electrical Expert offers numerous modules to best meet your needs and ensure complete execution of your electrical projects. The most popular modules are DWG, PLC and 2D Panel +.
DWG/DXF – Import
This module allows DXF and DWG files to be imported.
Translation – Multi-Languages
The module allows you to manage multilingual projects and translate them into as many languages as you wish.
Environment Manager
The module allows two-way synchronisation of the working environment and is recommended if a given environment is used by a larger number of designers.
Open Data
The module allows you to export and import electrical data in Excel format to modify the project.
2D Panel+
The module enables the rapid design of 2D electrical cabinets.
It automatically links the symbols inserted in the diagrams with those inserted in the cabinet. Apparatus is inserted directly from the list, which contains all the parts used in the project.
The components inserted into the cabinets are correctly scaled, taking width and height data from the apparatus catalogue. Apparatus can be placed on rails. Cable trays can be inserted into the cabinets. Terminal strips can be inserted into the cabinets.
3D Panel+
The module allows you to quickly design electrical cabinets in 3D.
It offers realistic views of the apparatus and its mountings, the visibility of free spaces and collision management.
Copper
The module enables the design of power and switch rails in switch cabinets. The 3D Panel+ module is required.
PLC
The module allows diagrams containing PLC I/Os to be generated, based on files downloaded from the IGE+XAO website and on the symbols and commercial codes downloaded from the SEE Web Catalogue.
Concurrent Engineering
This module provides a solution for collaborative work (group and multi-threaded electrical design) and allows users to work on the same project at the same time. For projects up to 100 sheets, it is sufficient to install MS SQL Server 2008 R2 Express Edition (minimum) and a normal computer on which a repository with shared projects will be installed, which will be a server for users. For larger projects, we recommend using Standard Edition and a good server.
Options & Variants
This module enables the management of design variants. It allows the electrical design of different variants of the connection network between symbols in the project. The module is particularly useful for designers of different options of the same machine, whose versions differ in their schematics.
Harness Documentation
It is a tool for designing 2D electrical harnesses from schematic diagrams.
Jigboard
Do you design and manufacture wiring harnesses? This is the module for you. The module offers the design of electrical wiring on a 1:1 scale. The Harness Documentation module is required.
End-Fitting
The module enables the management of wire and cable ends. The Harness Documentation module is required.
Cabinet Thermal Calculation
The module allows the thermal properties of the panel to be checked and the heat dissipation/temperature rise in the panel to be calculated.