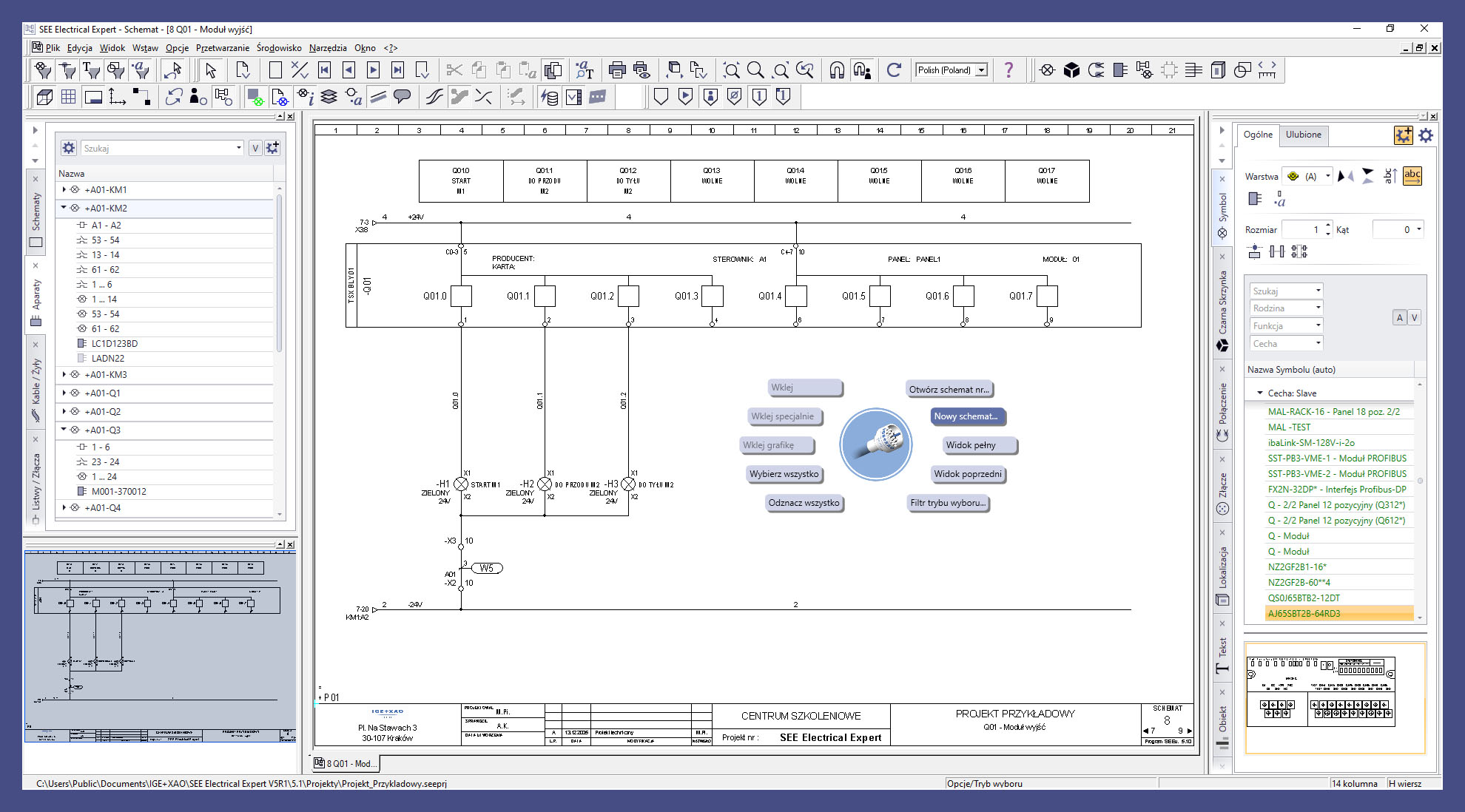 SEE Electrical Expert proponuje liczne moduły, aby lepiej zaspokoić Państwa potrzeby w zakresie pełnego wykonania projektu. Najbardziej popularne moduły to moduł DWG, PLC oraz 2D Panel+.
DWG/DXF – Import
Moduł umożliwia import plików DXF i DWG.
Translation – Multi-Languages
Moduł umożliwia zarządzanie projektami wielojęzykowymi oraz tłumaczenie projektu na inne języki.
Environment Manager
Moduł umożliwia dwukierunkową synchronizację środowiska pracy i jest zalecany, jeśli danego środowiska używa większa ilość projektantów.
Open Data
Moduł umożliwia eksport i import danych elektrycznych w formacie Excel, w celu modyfikacji projektu.
2D Panel+
Moduł umożliwia szybkie projektowanie szaf elektrycznych 2D.
Automatycznie wiąże symbole wstawione na schematach z tymi wstawionymi w szafie. Aparaty wstawiane są bezpośrednio z listy, która zawiera wszystkie części użyte w projekcie.
Elementy wstawiane do szaf są prawidłowo skalowane, pobierają dane o szerokości i wysokości z katalogu aparatury. Aparaturę można umieszczać na szynach. Do szaf można wstawiać korytka kablowe. Do szaf mozna wstawiać listwy zaciskowe.
3D Panel+
Moduł umożliwia szybkie projektowanie szaf elektrycznych w formacie 3D.
Oferuje realistyczne widoki aparatury i jej mocowania, wizualizację wolnych przestrzeni oraz zarządzanie kolizjami.
Copper
Moduł umożliwia projektowanie szyn zasilających i odpływowych w rozdzielniach elektrycznych. Wymagany moduł 3D Panel+.
PLC
Moduł umożliwia generowanie schematów zawierających WE/WY sterowników PLC, na podstawie plików pobranych ze strony IGE+XAO oraz symboli i kodów pobranych z katalogu internetowego w usłudze SEE Web Catalogue.
Concurrent Engineering
Ten moduł stanowi rozwiązanie umożliwiające pracę grupową (grupowe i wielowątkowe projektowanie elektryczne) wielu użytkowników w tym samym czasie i w tym samym projekcie. Przy projektach do 100 schematów wystarczy instalacja MS SQL Server 2008 R2 Express Edition (minimum) i zwykły komputer, na którym będzie zainstalowane repozytorium z współdzielonymi projektami i który będzie serwerem plików dla użytkowników. Przy dużych projektach zalecamy użycie wersji Standard Edition oraz dobrego serwera plików.
Variants & Options
Ten moduł pozwala na zarządzanie wariantami projektu. Umożliwia projektowanie elektryczne różnych wariantów sieci połączeń prowadzonych pomiędzy symbolami w projekcie. Moduł jest szczególnie przydatny dla projektantów różnych opcji tej samej maszyny, których wersje różnią się pod względem schematyki.
Harness Documentation
Jest to narzędzie do projektowania wiązek elektrycznych 2D na podstawie schematów ideowych.
Jigboard
Projektujesz i wykonujesz wiązki? To jest moduł dla Ciebie. Moduł oferuje projektowanie wiązek elektrycznych na płycie montażowej w skali 1:1. Wymagany moduł Harness Documentation.
End-Fitting
Moduł pozwala zarządzać zakończeniami żył przewodów i kabli. Wymagany moduł Harness Documentation.
Cabinet Thermal Calculation
Moduł umożliwia weryfikację właściwości termicznych szafy i obliczanie przyrostu temperatury w szafie.